You are here:

AlumiGraphics Aluminum Foil Material (Rolls)
AlumiGraphics Aluminum Foil Material (Rolls)
53" By the foot (3' minimum)
Available in 2 finishes
Rugged aluminum foil material
For exterior wall/floor graphics
Proven long-term durability
Smooth: For exterior brick, stucco and concrete walls
Grip: For asphalt, brick and cement walkways
Register or Login to see the price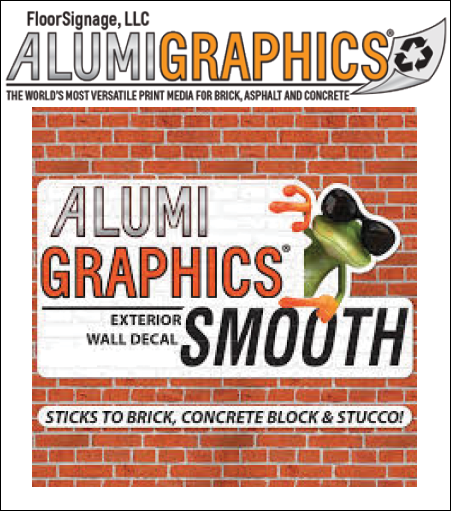 AlumiGraphics Smooth is a rugged aluminum foil material that naturally conforms to the texture of rough or smooth surfaces. It appears as a painted graphic . Print direct on uniquely textured surface; no over laminate required. High friction surface provides exceptional slip resistance exceeding international anti-slip standards in both dry and wet conditions. Proven durability for long term and short term use that withstands heavy pedestrian traffic in hot, cold and wet weather environments for up to 1 year. Eco friendly with no PVC or hazardous elements and can be disposed with aluminum recycling.
Smooth: For exterior brick, stucco and concrete walls
Grip: For asphalt, brick and cement walkways
Product rating
Customer Reviews
There have been no reviews for this product.