You are here:

Gorilla® Epoxy 2 Part
Gorilla® Epoxy 2 Part
Two-part epoxy Impact-tough™ Formula
High impact resistance and strength
5-minute set
Water Resistant
Easy-to-use reusable syringe
Solvent Resistant
Low VOC
Non-toxic once cured - safe for everyday handling
Register or Login to see the price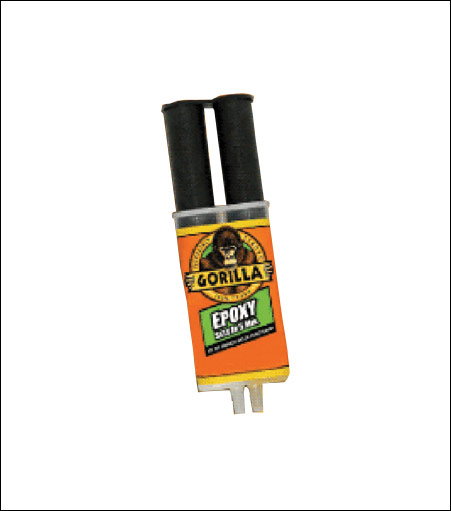 Gorilla® Epoxy is taking epoxy to the next level, the Gorilla® Tough level. Gorilla's two-part epoxy is an Impact-Tough Formula, providing high impact resistance and strength to handle the toughest projects. Plus, it's fast! Gorilla® Epoxy sets in 5 minutes and can be handled in 90 minutes.

Gorilla® Epoxy gap-filling capabilities and all purpose formula easily bond steel, wood, aluminum, ceramic and much more.

Impact-Tough™ Formula - hybrid technology improves overall adhesion strength and flexibility. Gap Filling - fills voids and bonds uneven and vertical surfaces. 5-Minute Set - plenty of repositioning time for the perfect fit. Water Resistant - withstands moderate exposure to water. Easy-to-Use Reusable Syringe - separate barrels of resin and hardener keep epoxy from hardening, plus syringe dispenses evenly and includes a cap for multiple uses. Solvent Resistant - will not break down from exposure to common solvents. Low VOC and Non-toxic Once Cured - safe for everyday handling.
Product rating
Customer Reviews
There have been no reviews for this product.