You are here:

Nikkalite™ Reflective Fluorescent YELLOW GREEN Fleet Grade (By the Roll)
Nikkalite™ Reflective Fluorescent YELLOW GREEN Fleet Grade (By the Roll)
Reflective Fluorescent Yellow Green Film
Nikkalite Brand Flexible Engineering Grade (FEG)
Premium Digital/Fleet Grade
High Resolution
Digital Reflective Graphic Film
Solvent, eco-solvent and UV printable
Superior Top Film
Used For: Fleet marking, decals and signs
Register or Login to see the price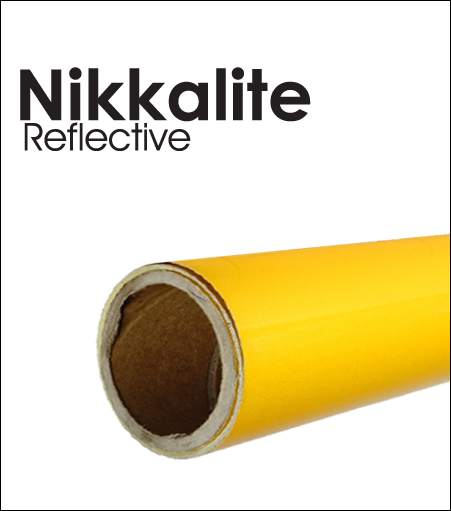 Nikkalite Brand Flexible Engineering Grade (FEG) is a flexible, 5 mil Engineering Grade 7 Year Reflective Film, glass beaded lens retroreflective sheeting that renders retroreflectivity at night. It is designed for use on fleet and vehicle markings where application to riveted and corrugated surfaces may be required. It is also used on commercial signs and various labels and is highly resistant against the extremes of hot, cold, dry and humid weather conditions. Signs or labels faced with Nikkalite Brand Sheeting and transparent colors are attractive in appearance and highly visible during both day and night. The properties given are not for use in specifications.
Specifications

---

Premium Digital/Fleet Grade Film
High Resolution Reflective

Thickness & Durability

---

Thickness: 5.0 mil
Durability: 7 years

Print Compatibility

---

Solvent, Eco-Solvent and UV Printers

Recommended For

---

Used For: Fleet marking, commercial decals and signs
Product rating
Customer Reviews
There have been no reviews for this product.