You are here:

Weld-On #4052 Multipurpose Solvent Cement
Weld-On #4052 Multipurpose Solvent Cement
1 Pint or 1 Gallon
Replaces #2007
Working Time: 15 minutes
Fixture Time: 20-25 minutes
Shelf Life: 3 years
For bonding a variety of plastic substrates
Register or Login to see the price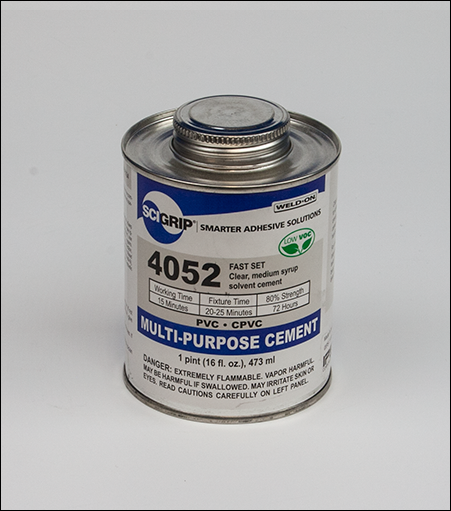 WELD-ON 4052 is formulated for bonding a variety of plastic substrates. It will bond PVC, CPVC, foamed PVC, ABS, acrylic, styrene, polycarbonate, Noryl, etc. to themselves and to each other.
Weld-On 4052 is a clear, medium bodied, fast set solvent cement. The cement appears to have a slight amber tint when viewed in the container, however, the usual thin layer on the substrate appears clear when dry.
Product rating
Customer Reviews
There have been no reviews for this product.