You are here:

ProPrint™ Heat Transfer Material
ProPrint™ Heat Transfer Material
Print and Cut Heat Transfer Material
| | |
| --- | --- |
| Heating Temp: | 305° F |
| Pressure & Time: | 6-8 seconds with medium to heavy presssure |
| Washing Temp: | under 40° C |
| Finish: | Matte |
We recommend that you allow to cure for 4-12 hours before application for maximum color durability
Register or Login to see the price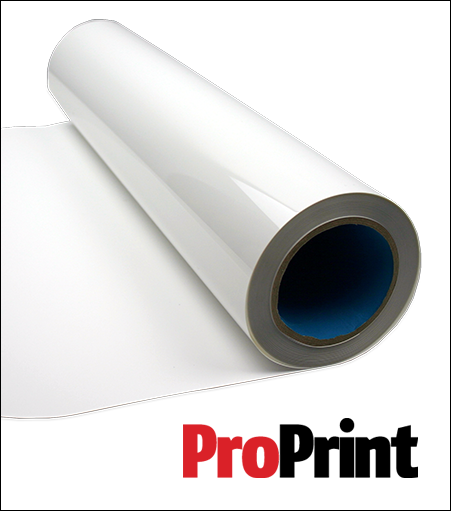 Specifications

---

Solid Color Heat transfer material
Color: White (Opaque Available)
Finish: Matte

Temperature/Time

---

Heating Temp: 305° F for 8 seconds
Washing Temp: Under 40° C

*We recommend that you allow to cure for 4-12 hours before application for maximum color durability

Recommended For

---

Solid color heat transfers

Heat Press Application

---

Due to the various base materials on the market, the following heat transfer instructon are given as guideline only

Press at 305° F for 6-8 seconds from top pet protective film with Medium pressure (500-700 KGS/SQ.CM)
Lift Up
Warm Peel
Reaheat if needed for 3 seconds
Washing Temperature: Under 40° C

Care Guide

---

Turn garment inside out, machine wash
Cool/warm water temperatuer, line dry
Print and cut (No waiting for ink to dry. Stretch and rebound without cracking or peeling.
Die cut, plotter cut or laser cut
100% Eco Polyurethane - Not a PVC or a hybrid
Matte finish - warm peel - soft hand/touch
4-way rebound
Heat applies to virtually all dark and light fabrics
Registered embroidery capable (no needle gumming)
No Phthalates, no lead, safe and reliable
Comes in Opaque.
Product rating
Customer Reviews
Author: Danielle Hoyt
Great Product!
Author: Eric Schmidt
Not so great product. Worked for hats but stay away from shirts with this one.
1 - The vinyl is rolled with the printable side on the inside of the roll making it curl up towards the print-head. You have to burn 6" to 10" of material every time you set the material up to print. Not efficient which brings down the overall value.
2 - It has a papery crisp feel. We are trying to imitate screen printing. I might as well crumble up a piece of paper and throw it at my customers and tell them the shirt is ready.
3 - After one wash the print has scratches and blemishes and the vinyl is showing sign of failure.