You are here:

Magic® Siena 200L Photo Paper
Magic® Siena 200L Photo Paper
8 mil
Microporous coating*
Bright white
Luster surface
Quick dry
Superior pigment color gamut
Premium feel - medium weight
Register or Login to see the price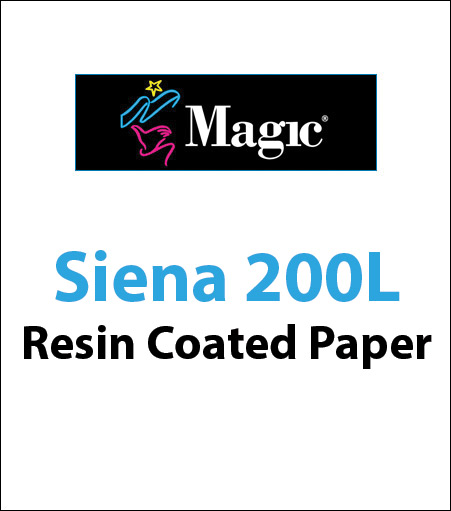 Magic Siena 200 products are 8 mil, high quality, resin-coated photobase papers with a universal microporous coating available in both lustre finishes. The Siena photobase papers are designed to provide instant dry times on most high speed thermal and piezo waterbased inkjet systems with dye and pigment inks. Product features include superior pigment color gamut and ease of handling during printing and lamination. Applications include photo reproductions, signage, posters, and POP displays.
*What's the difference between a swellable coating and microporous coating for inkjet media?
The ink-receptive coatings applied to different types of media has a major influence on how ink is absorbed on the surface of the inkjet paper, vinyl, or canvas. The ink-receptive coatings also influence aesthetic properties (such as gloss uniformity, dot gain, and color density) and print durability (resistance to abrasion, fading, and/or water).
Swellable coatings include synthetic and/or natural polymers that swell when aqueous inks are applied. The coating encapsulates the colorant in the ink and protects it from airborne pollutants. Swellable coatings are most often used with dye inks, because pigment particles are too large to be absorbed into the coating. The clarity and transparency of swellable coatings helps maximize the vividness of color and darkness and depth of black areas. Although swellable coatings can provide excellent image quality and rich color, they are not durable. Your print can easily fade, run or scratch when exposed to the elements.
Porous coatings (also known as microporous or nanoporous coatings) are semi-rigid coatings comprised of millions of microscopic particles held together with a chemical 'binder.' When the ink flows into the ultra-tiny spaces between the particles, the surface of the print feels instantly dry to the touch. With pigment inks, a porous coating provides a high level of water and fade resistance.
NOTE: Some inkjet coatings are applied to the back of the substrate to improve paper stacking during printing or to control paper curl.
ALSO: Piezo Printheads (Epson developed DX series printheads - used also by Mutoh, Roland, Mimaki and others for example) provide a delivery system which perform exceptionally well with microporous coatings because of their ability to deliver as small as .02 picoliter drops as opposed to thermal heads which deliver 32.0 picoliter drop sizes on average. That and advanced dither (spray patterns) techniques result in magnificent image quality and incredible speeds. I can't believe you are still reading this. However, that says something about you and your passion.....More than some of you may have wanted to know for sure, but understanding how it all works helps makes you a professional vs. a hobbyist. Our hope is that this will help instill confidence that you have chosen the right product for your needs.......Yet another reson to choose SIGN-MART vs a 'box mover' re-seller - where we know our products and can provide consultation as well as educate our customers and are always happy to assist in all your signage needs.
Product rating
Customer Reviews
There have been no reviews for this product.