You are here:

Orange Peel™ Adhesive Removal Fluid
Orange Peel™ Adhesive Removal Fluid
*Shipping Restrictions: If shipping by UPS or FedEx, can only ship GROUND*
---
Extremely safe formulation
Bio-degradable formula is also non-toxic
No toxic petroleum distalates
No hydrocarbons, no alcohol, no ethylene
No caustic acids or pollution-causing ingredients
Test on sealed masonary prior to full application
May remove clear sealer on sealed masonary and stone surfaces
Always test your substrate first in a small area for compatibility
Register or Login to see the price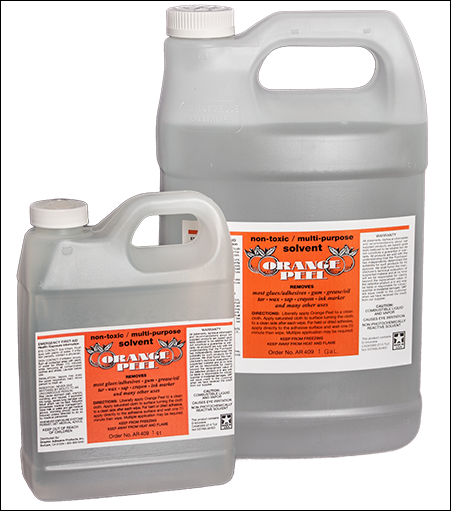 *Shipping Restrictions: If shipping by UPS or FedEx, can only ship GROUND*

---

Orange Peel Adhesive Remover This product, is a natural citrus based solvent, developed for the removal of oil and water based adhesives, wax, tar, oil, chewing gum and ink graffiti. May be used on automotive, boat, glass, acrylics, metal, masonry, cloth / vinyl fabrics and many other surfaces. This pleasant smelling BIO-DEGRADABLE FORMULA, CONTAINS NO TOXIC PETROLEUM DISTILLATES, NO CHLORINATED HYDROCARBONS, NO ALCOHOL, NO ETHYLENE, NO CAUSTICS, NO ACIDS OR OLLUTION-CAUSING INGREDIENTS. NOT for use on styrene plastics. When using on sealed masonry surfaces; test on an inconspicuous area to make certain it will not remove sealant.
Product rating
Customer Reviews
There have been no reviews for this product.