You are here:

ScrapeRite™ Double Edge Plastic Razor Blades 5 Pack
ScrapeRite™ Double Edge Plastic Razor Blades 5 Pack
5 Blades
1 Holder

Non-metallic and Non-magnetic Will Never Rust or Corrode Fits ANY Std Razorblade Holder For best results add an appropriate solvent or water to the surface being cleaned, Place the ScrapeRite into standard holder and scrape using appropriate pressure
Register or Login to see the price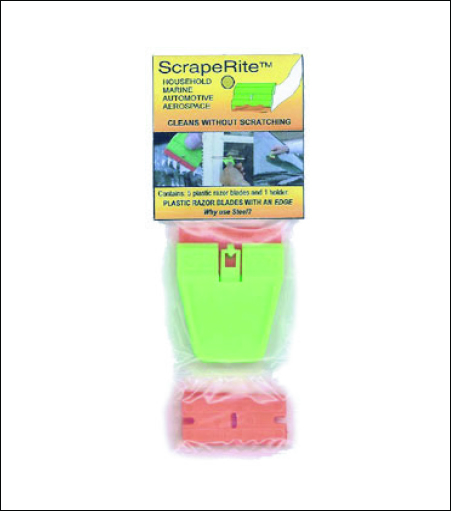 A blade that won't scratch? You bet! Now you can scrape to your heart's content without worrying about scratching your work or cutting your fingers. Effective for scraping grease, gum, gunk'n'grit from any flat surface, including acrylic windows, metals, unfinished wood, decks you name it! Designed to fit most standard handheld blade holders. Package includes five double-sided, hard-acrylic blades (10 cutting edges) and plastic blade holder.

USE ON:

acrylic, a

ircraft, a

ppliances, aquariums, auto, banners, boats, bottles, chrome finish, cookware, countertops, fiberglass, foodlabels. furniture, glass, machinery and equipment, marble, metals - soft and hard, painted surfaces, plastics, skis, surfboards, tile, tools, vinyl, and just about anything else!
Product rating
Customer Reviews
There have been no reviews for this product.