You are here:

General Formulations® 231 AUTOMARK™ Clear Calendered Wrap LAMINATE
General Formulations® 231 AUTOMARK™ Clear Calendered Wrap LAMINATE
General Formulations® 231 Gloss Overlaminating Film is a conformable pressure sensitive 2.4 mil gloss clear PVC film with the optically clear permanent acrylic adhesive on kraft 53# over laminate liner. This vinyl film offers protection from ultra violet radiation, moisture and other environmental exposures. It is laminated by the cold laminating process without the addition of heat.
54" x 150' Roll

UV inkjet should only be used on flat surfaces

Excellent print quality and conformability

Gloss Overlaminating Film - Permanent Adhesive
Vehicle Types:

Vans, Trucks, Sedans of all sizes, Fleet and Recreation vehicles
Register or Login to see the price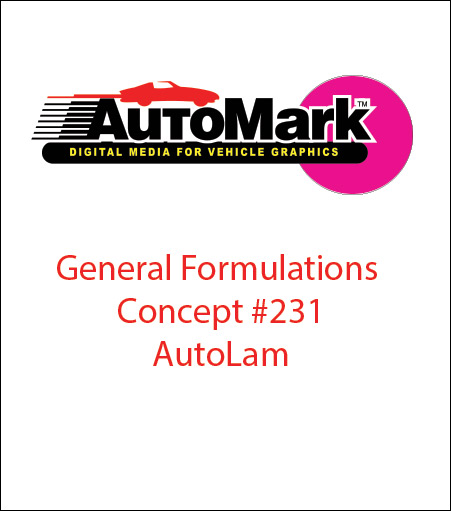 Gloss overlaminating vinyl film is designed to protect digital image prints and screen printed images for vehicle wraps and graphics, exhibit and display graphics. Can be used in most instances where an overlay with a gloss finish is required. Recommended for use with Automark™ 230.
Product rating
Customer Reviews
There have been no reviews for this product.