You are here:

ThermoFlex® Plus
ThermoFlex® Plus
Heat transfer material
For thermal lettering
Self-adhesive layer
High speed cutting
Ultra-fine detail
Easy Weeding
Suitable for most cotton, cotton-polyester, wool, lycra and other basic fabrics.
Register or Login to see the price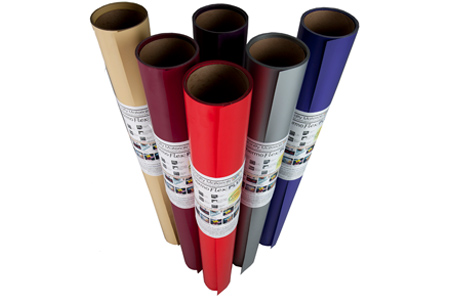 • Widest color selection in the industry, including special sport team colors and neons

•

Durable, weeds easily, and has a soft hand and strong grip
•

Pressure-sensitive carrier enables easy weeding and repositioning
•

If applied correctly, Plus will outlast the life of the garment
45°BLADE

Cut this material in

mirror image.

330°F - 335°F
Medium to firm, even pressure.

17 - 20 SECONDS

Peel WARM. For NEONS. and COLUMBIA BLUE Peel COLD. TEFLON for 2 seconds.

Wash warm tumble dry normal.Suitable for dry-cleaning.

*NO NYLON. Be advised that DYE MIGRATION has occurred with low energy dyes in polyester and poly-blended fabrics.

* INSTRUCTIONS FOR APPLICATION to moisture-wicking materials: Damp a cloth with rubbing alcohol (Isopropyl alcohol), then rub it into the area on the garmet you want to apply your design. Allow it to dry and apply your material. This will allow better adhesion to the garmet.

* INSTRUCTIONS FOR APPLICATION TO DAZZLE CLOTH & SHINY POLYESTER FABRICS: We highly reccomend that you TEST prior to doing large runs. Coated Polyester can routinely cause adhession issues.

NOTE: Take care when layering media - SOME colors should NOT be layered beneith or below some colors.
Product rating
Customer Reviews
There have been no reviews for this product.